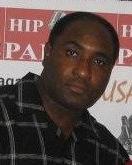 Jesse Christopher Atkinson is a 15 year music industry veteran. He's an author, an activist, a marketing specialist, an executive and a lecturer. He is also the CEO of Urban Threshold Enterprises Inc., and the founder of the Underground Music Awards and The A&R Power Summit.
Urban Threshold has been a powerful force within the independent urban music scene for over a decade. The company has emerged as one of the premier marketing/publicity firms for independent artists and music producers in the country. Urban Threshold has secured media placements for its clients in major media outlets such as XXL magazine, Hip Hop Weekly magazine, TheSource.com, Shade 45 Sirius/XM radio, AllHipHop.com, Billboard.biz, InflexWeTrust.com, ThatsEnuff.com, YoRaps.com, Vlad TV.com, Thisis50.com and much more.
In 2001, Mr. Atkinson created the Underground Music Awards. The 10 year old event has become the biggest and brightest award show for independent urban music artists in America. The UMA award show has received press from MTV, BET, The Source, Hot 97 and the village voice. Past winners of Urban Threshold's Underground Music Awards include Nicki Minaj, (MGK) Machine Gun Kelly, Cory Gunz, J Cole, Freeway, Lil Mama, Remy Ma, Styles P, Papoose, Saigon, Lumidee, Emilio Rojas, Fred The Godson, Killah Priest, Donny Goines, Sha Stimuli, Torae, and Serius Jones among others.
In addition to honoring the future stars, the UMA's also pay homage to the legends. Past honorees include Hip-Hop legends like Whodini, Ice T, Naughty By Nature, EPMD, Slick Rick, Run DMC, Grandmaster Flash, MC Shan, DJ Red Alert, DJ Kid Capri, Kool G Rap, M.O.P., Ralph McDaniels, Cormega, DJ Kay Slay, DJ Envy and many more!
Equally important, in 2001, Jesse Atkinson founded The A&R Power Summit seminar series. The acclaimed A&R Power Summit's comprehensive program schedule of panels, workshops, and music listening sessions address the important issues affecting the music industry today. The A&R Power Summit offers lively moderators, diverse participants, in depth discussions, fantastic performances and spirited debates.
Past A&R Power Summit panelists include Bryan Leach, President of Pologround Records/SONY, Chivon Dean, President of Ruff Ryders, Wayne Williams, former VP of A&R of Jive Records, Lenny Santiago, former VP of A&R of Def Jam and current VP of RocNation and more.
Jesse Atkinson grew up in the Bronx, NY, the birthplace of Hip Hop. Music has always been part of his life. He attended Pace University where he studied finance and marketing. After college, he worked on Wall street for over 20 years as an account executive. He had long stints at Oppenheimer & Co. and A.G. Edwards and sons.
Mr. Atkinson applied the business and finance knowledge that he used on Wall Street to the music industry. He consulted with a myriad of independent record labels and production companies. He wrote business plans on their behalf and assisted them with securing investment capital. Moreover, he helped to structure the independent labels. He demonstrated how they must strategize their movements inorder to garner a competitive advantage. Mr. Atkinson taught them the importance of market share. Additionally, he showed the indie labels how to incorporate crucial financial reports and planning tools into their operations such as spreadsheets, balance sheets, marketing plans, sales projections, profit & loss reports, expense reports etc. And as a result, many of these independent music firms prospered.
Finally, as a single dad, Mr. Atkinson wanted to create a mentorship program to help young urban dads become better fathers to their children and be more productive citizens in society. Hence, he started a private organization called the "Water Your Seeds" program.